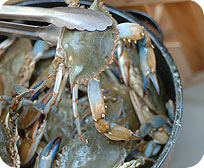 So I am loving this post.  I have had a hellish few weeks at work (you don't even want me to get started on all the stuff I am dealing with) and need a laugh.  The thing I also realized is that I really miss the mid atlantic and all the fabulous foods that are there.  One food in particular is the Maryland Blue Crab.  Those things are delicious and I finally found somewhere online that actually sells them live and whole. Its called the Crab Place.
The Crab Place is your ultimate destination for live maryland blue crabs.  These succulent shellfish are perfect steamed, made into crab cakes, fried for a sandwhich and virtually everything else.  My preference is all of the above.
The picture above and to the left is the famous Maryland blue crab.  By clicking any of the links in this posting, you will be taken to a page where you can order a bushell (usually a dozen or so) of these gorgeous creatures live and fresh.  I believe the picture above is the Male Blue Crab (You can tell whether they are male or female by looking at their bellies and seeing something falic or female.  It's pretty cool.  The ones in the picture I think are the select male and are delicious.
The crab place sells multiple sizes and quanitities of the gourmet treats.  They have a mixed Female Basket, the Jumbo Female Blue Crab Bushel ranging from 5 3/4″ to 7″, select males from 5 – 5 3/4″, Premium Jumbo Male Blue Crabs from 5 3/4″ – 6 1/2″ and finally the king of the Maryland Blue Crabs the colossal Male Blue Crab from 6 1/2″ and up.
These Crabs are the kind you love to get from your boyfriend or girlfriend.  I mean, they not only make a tastey meal, but you can call all your friends and family and say, Hey Mom, you were right, my partner is trouble, he/she gave me crabs and they are delicious.  Did you ever think you could tell your best friend that you got crabs and you want to share??? Oddly enough they will probably be happy to share your crabs with you.  You basically see where I am going with this.  Getting and Giving Crabs no longer has to be a bad thing,,,,well in this case and there are a ton of fabulous and funny jokes that go along with it. I highly recommend ordering crabs and giving crabs as gifts from The Crab Place to all your friends, family and loved ones.  Wouldn't it also be cool to be able to say to the Groom or Bride that you gave their partner crabs just before the wedding….hehehhe I couldn't resist.  Click here to order!